"Why I Chose to Tell My Story" as Told by Storytellers
To date, over 300 young people have bravely shared their STEM experience with the unCommission, pointing to the successes and challenges of preK-12 learning. We continue to be inspired, humbled, and motivated by all that we are hearing. 
We asked some of our storytellers why they chose to participate in the unCommission and share their truth, and we're excited to share back what they told us. Our artist Play Steinberg has also created visuals of their reasons for sharing their story, as told by our storytellers. 
Here's what we heard from these storytellers: 
They believe in the power of widespread storytelling, which has the potential to disrupt traditional ways of thinking and lift up communities who are too often marginalized.

They know that there is so much variation in how STEM is experienced, and it's important to reflect on what we can learn from these different perspectives. Many times, these stories might even reveal something that was completely unexpected. 

Storytellers shared that that racism has stifled the voices of entire communities of color, and the unCommission creates a platform for these young people to be deeply heard. 

They hope that their stories will inspire others to share their realities and elevate their voices to this national effort.  
We are so grateful for all our unCommission storytellers for co-creating this community and collectively using their voices to improve STEM learning for all young people across the United States.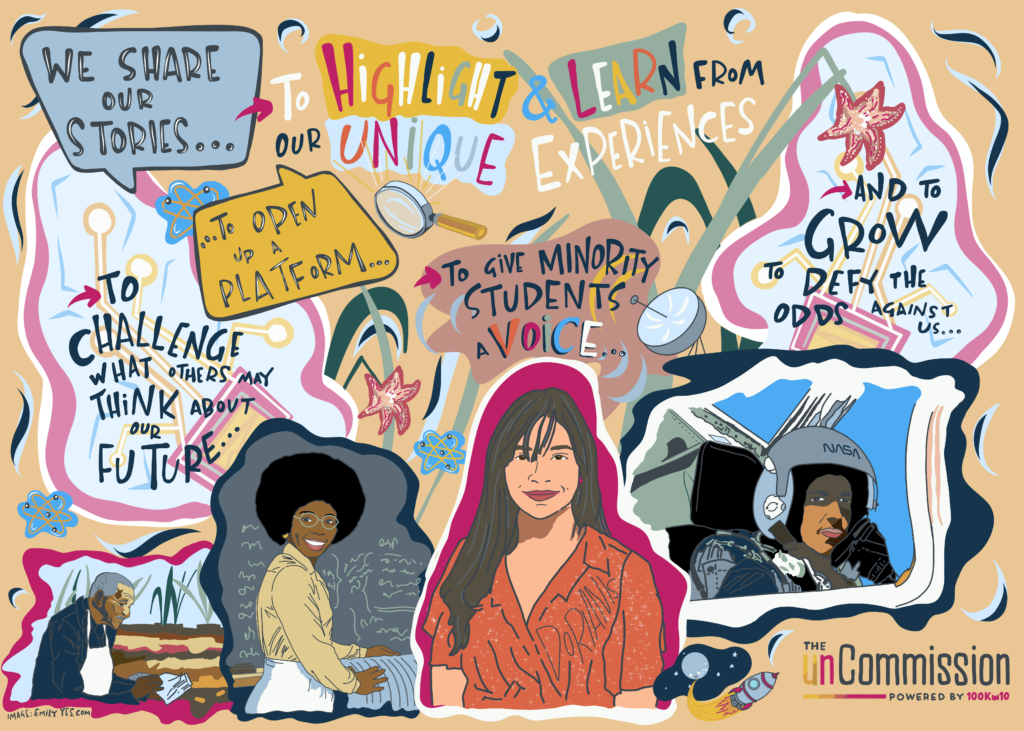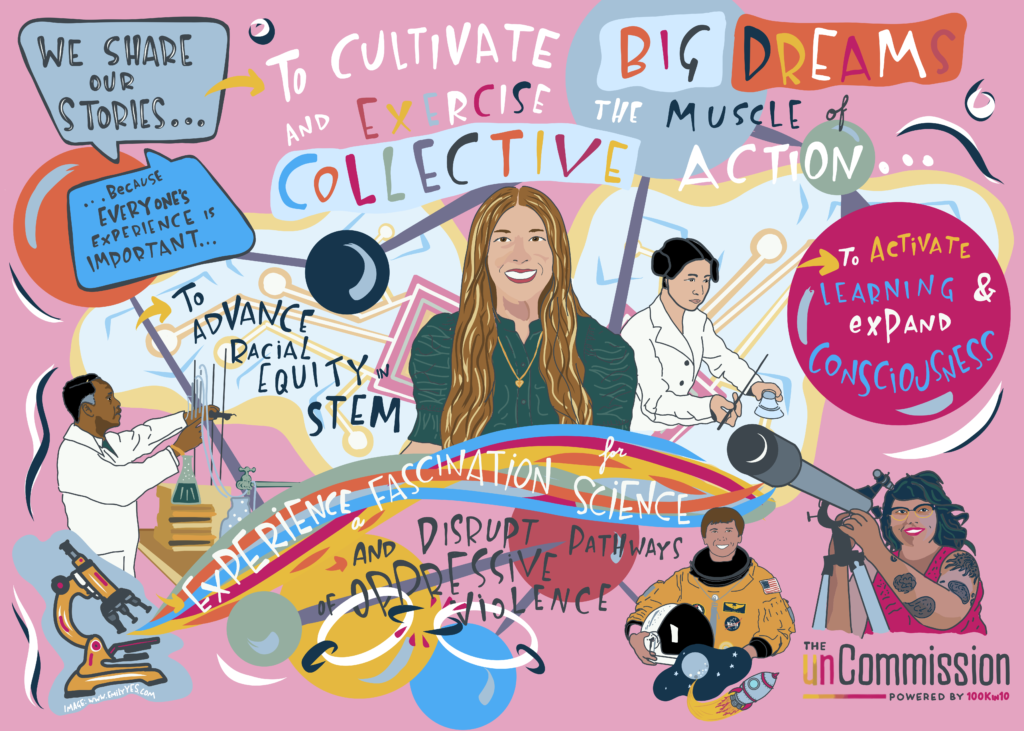 These illustrations feature quotes from four storytellers: Kendra Hale, Kaitlyn Varela, Dorianis Perez, and an anonymous storyteller. The images feature our storytellers in the foreground with their reasons for sharing their story with the unCommission written around them. Our storytellers stand alongside other influential STEM experts, including George Washington Carver, Valerie Thomas, Ellen Ochoa, Percy Julian, Ruby Hiros, Franklin Chang-Diaz, and Karlie Noon.
We thank our storytellers who shared their reflections with us, whose full quotes and stories you can read below: 
"I knew I wanted to be involved with The unCommission project because it opens up a platform for widespread storytelling with the mission of advancing racial equity in STEM education. The power of this storytelling is that it activates learning and aims to expand consciousness of the lived experiences of those who intimately know the endless manifestations of oppression.  I believe in exercising the muscle of collective action and the reach of collective impact to disrupt pathways of oppressive violence." - Kendra Hale
"I wanted to participate in the unCommission because I think it's very important to highlight each individual's unique experience through STEM education in this country and this is especially true of underrepresented minority students because we are so rarely given a platform to be heard. I decided to share my story to be able to let others know that we have all had different experiences and these are the very experiences that shape us and lead us to become who we are today. But, even so, we should always learn from these and grow to defy the odds against us and really challenge what others may erroneously think about our future." - Dorianis Perez (read Using STEM to Overcome)
"I decided to tell my story because I wanted others to experience a fascination for science the way I have - and that's not saying I didn't struggle in the beginning - but my teachers were great and really pushed me toward a field in science, which I appreciated. I want to help others share their story and let them have a voice in STEM education because to me, everyone's experience is important." - Kaitlyn Varela (read Kaitlyn's Story)
"In my story, unexpected experiences in STEM have the power to cultivate big dreams and lead to amazing new discoveries. A more equal and active encouragement of STEM in this country could open up thousands of new opportunities, and I want to be a part of it." - Anonymous Storyteller (read Math: A Story of Love, Hate... and Love Again)