Storyteller: Erin (she/her/hers), 19, Maryland
"As I reflect on the different experiences in my budding career as a woman in STEM, my memories can't help but gravitate to the people who brought those experiences into life. There's no denying that hundreds of people have touched me in some way or another. However, there are four people, 4 women, 4 pillars of strength that I must shout out.
First, there was my mom, the rock upon which my interest in science began to grow. As an education policy analyst, words like biology and chemistry hardly ever came up in her life. Even now as I share news about the newest CRISPR technologies, she might cross her eyes or even feign sleeping. Which is all in good fun, and I know this for two reasons. One, in all of my 19 years of living, my mom has always made time to listen to me, even if she did not fully understand. Two, she was the one who first encouraged me to give science a try. One fateful autumn day in third grade, I came dashing into my house with a crumpled pink paper clutched in my hand. "MATSUNAGA SCIENCE CLUB" was scrawled across the top of the paper. We to "apply" to get in, and the club would meet on mornings before school started. Now, my mom could have easily said no, or not right now. She could've thrown that paper away, and with my 3rd-grade attention span, I would've moved on without a second thought. But she didn't. Later that night, she pulled out some fresh notebook paper and helped me draft a compelling essay to turn in. Upon my acceptance into the science club, she always made sure I was there on time. The gears were set in motion.
Fast-forward a few years, I'm in the second half of eighth grade. My growing passion has taken a bit of a backseat to the swirling storm of puberty, and my desire to be like everyone else. I was a strong student in all my subjects, but biology and chemistry just weren't hitting like they first had in third grade. However, near the end of eighth grade, we had to participate in this program called "mini-mester". For the last week of classes, you would take a mini-class that zeroed in one particular topic. Naturally, the flashy topics like forensics and dc underground mini-mesters were highly coveted. There was one mini-mester that no one wanted: Mind-Find. We all thought the teacher who taught it was weird and mean. Mrs. Whitley had brains all over her office, and was always using confusing words like "metacognition". When we turned in our list of preferences, my fingers and toes were crossed. Anything but Mind-Find. Anything but Mind-find. As God would have it, that ended up being the mini-mester I walked into on that last week of May. Luckily, my devastation evaporated minutes into the class, as I listened intensely to the story of Phineas Gage. I was hooked as all my pre-conceived notions about the human brain shattered. I ended up loving Mind-Find and thanks to Mrs. Whitley, I'm now majoring in neuroscience and psychology at Rensselaer Polytechnic Institute.
A couple more years pass by, and I find myself donned in a lab coat and gloves at the Philadelphia College of Osteopathic Medicine. Because of the MD/Ph.D. preparation program that I had got into (thanks to Mom), I was doing research under the mentorship of Dr. Cathy J. Hatcher for an entire summer. Dr. Hatcher specialized in immunohistochemistry which consists of staining tissues and cells and viewing the samples under a special, fluorescent microscope. Staining is a long procedure with several different steps. Which meant there was a multitude of ways to mess up that you wouldn't even know about until you went to go image. I would love to say that I got through that summer with no hiccups and did every staining perfectly. But why would I have? I was completely new to staining and the lab scene, so of course, I messed up. Several times. But with every mistake I made, Dr. Hatcher was quick to reassure me that I was doing okay and didn't have to panic. She also showed me ways in which I could improve my technique and carry out the experiments more efficiently. She never belittled me and treated me like any grad student or fellow PI. Dr. Hatcher built up my confidence as a woman in STEM, and her encouraging words continue to echo from my mouth as I mentor those coming after me.
Now, the last woman is someone I've never had the chance to meet, but I feel a strong connection to her anyways. I think we all should. The summer before senior year, we had to read a book in preparation for AP biology. As much as I enjoy reading, I can't say I was super thrilled about the idea of assigned summer reading for biology of all things. However, as any responsible student would, I promptly purchased the book off of Amazon, thus I was introduced to the story and legacy of Henrietta Lacks. Reading about her story was another mind-shattering process as my view of STEM rearranged. I was no stranger to racism and discrimination, but I supposed I was naïve in my belief that STEM had somehow transcended those ideologies. Reading about the way Henrietta and her family were treated, I felt sick and furious. Even as I write this, I'm quietly fuming at all the people who wrenched that scientific discovery from her before tossing her life aside. The Immortal Life of Henrietta Lacks opened my eyes to a world I wish never existed.
These four women, these pillars, these black beauties all gave me something to hold onto as I make my way through college, and graduate school. They nurtured and loved me, and cautioned me. As I continue my studies, I want to become a pillar for all of the quirky, lanky black girls who have a penchant for scientific inquiry."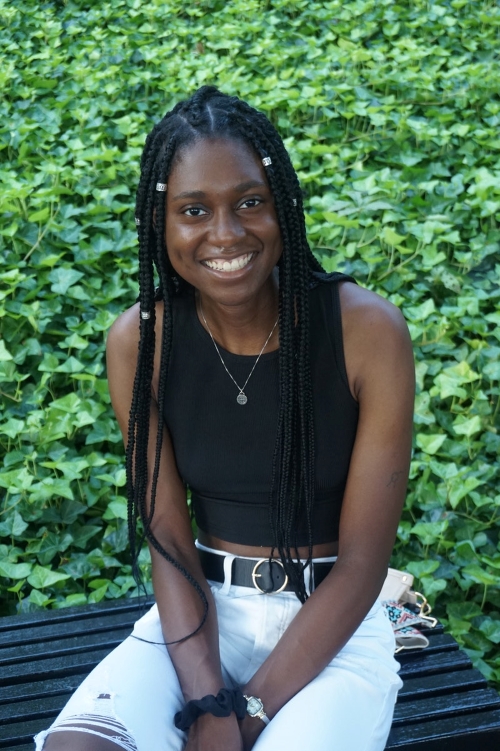 Dr. Hatcher built up my confidence as a woman in STEM, and her encouraging words continue to echo from my mouth as I mentor those coming after me.