From Underdog to Optometry
Storyteller: Jose (he/him/his), 24, Ohio
"My story begins long before I was born. It begins in Monterrey, Mexico where my mother was born. She was born and spent most of her early years in Monterrey before moving to San Benito, Texas with her family. My mother's family travelled the United States working as migrant field workers collecting whatever crop was in-season before my grandfather pursued work in carpentry. He built their home with his bare hands and taught my uncles skills that they use to this day. My mother fell in love, had my older sister, left school and left home to pursue the same work that my grandparents pursued.
For years my mother and her husband, Junior, travelled from Texas to Florida picking crops and saving money to take my sister to Disney World. They did this for years before settling down in Harlingen, Texas to offer my sister a better childhood and life than they had. Unfortunately, Junior became incredibly sick and passed away soon after my mother learned that they were expecting a baby boy. This traumatic event left my mom swearing to pursue a career of changing lives. Her dream was to open a personal care home to take care of hospice patients, allowing their family to spend more time with their loved ones. Years later my mother married my father and had me but soon after, my parents divorced. My mother worked 3 jobs as a WIC employee, night-shift caregiver at a local nursing home and cleaning houses to provide for my brother and me. We would often go to school, spend the afternoon at the Boys and Girls Club of San Benito and nights sleeping on the couches of my mother's night job. This went on for a year-or-so before my mother decided to pursue a career in nursing. She completed her CNA certification and we moved to San Antonio so she could pursue her dream.
I was in 2nd grade, and we lived in an apartment while my mother continued working 3-4 jobs to support her family. I'll never forget the feeling of "making it" when we finally moved into an empty apartment. Fast-forward 3 years and I bet you can only imagine the feeling we had when we moved into an empty house! In 5th grade, my mother renovated our home from a 3-bedroom to a 6-bedroom personal care home and founded "Junior's Personal Care Home".
From 5th grade to college, my mother took care of hospice patients from the comfort of our home to offer families more time with their loved ones the way she wished she had with Junior. It was hard growing up sharing a house with strangers who were near the end of their life, but I soon learned the value of helping someone and it became much more than that. Life was difficult but the hardships we faced only motivated me to excel in school and pursue my dream of being a doctor.
After my first year of college, I worked at a summer camp in Becket, Massachusetts as part of their Adventure Staff Team and spent months taking our campers on hiking, camping, fishing, and outdoor trips. I worked alongside other staff members from across the world and learned about their lives back home. I learned how education and careers are so vastly different in other parts of the world. It prompted me to remember how different my life was back in "The Valley" of Texas. The county I was born and partly raised In has one of the highest poverty rates in the state and is connected to the US-Mexico border. Thinking back to my mother's sacrifice to save my brother and I from what life could have been motivated me to take a more proactive approach on my education and career.
I found a job working in optometry and, at first, had no interest in pursuing a career with glasses and contacts but soon learned the importance of primary eye care in our healthcare system. For 4 years I worked alongside optometrists and ophthalmologists, treating patients with cataracts, glaucoma, ocular diseases, binocular vision deficiencies and even played a role in refractive surgery. These experiences further fueled the passion that I learned from my mother, helping people. During my last 3 years of undergrad, I worked full-time in eye care and was involved with the Neuroscience Club, Pre-Optometry Professionals Society and the Sigma Chi Fraternity. I was fortunate enough to participate in The Ohio State University College of Optometry's "Improving-Diversity in Optometric Careers" (IDOC) program and learned the importance of diversity within our healthcare system. I later graduated with my Bachelor's of Science in Biology and am a proud alumni of The University of Texas at San Antonio.
I took a gap year working at a clinic that specializes in refractive surgery and ocular disease, studying for my optometry school admissions exam and saving money. During this time, my mother earned her citizenship to the United States, and we were all so proud of her. I stressed with the thought of getting into optometry school. After my summer at I-DOC, I knew Ohio State was where I was meant to be. I dreamt of attending a world-renowned, top-tier, university with an incredible medical center. It was a dream that I had since I can remember but it always seemed so out of reach and impossible at times. After my exam, applications and interviews, received an offer at my dream school. Now, I am a first-year optometry student at THE Ohio State University College of Optometry. My future plans are to practice in an ocular disease and refractive surgery clinic in Texas, fight for the expansion of optometric scope of practice in Texas to give patient's better access to care and to host mission trips to Mexico to provide eye care to those who can't afford it. It leaves me speechless to consider everything my mother went through just for the chance at a better opportunity for her children. Her hard work and sacrifice allows her to live her dream and me to live mine.
My experience through STEM started with an immigrant single mother, working hard in fields of produce, building a care home with her bare hands, pursuing a life of changing lives and a better chance at giving me the opportunities that she never had. I wish I had time to share every detail from our lives but for now, it's back to studying. It's exam week!"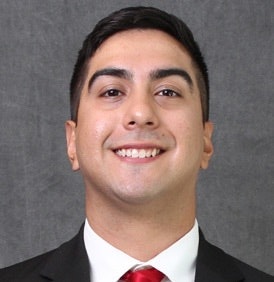 My experience through STEM started with an immigrant single mother, working hard in fields of produce, building a care home with her bare hands, pursuing a life of changing lives and a better chance at giving me the opportunities that she never had.