Illinois: The Sound of Belonging
In Illinois, the students of North Grand High School's Music Club, a program provided by Chicago Arts Partnerships in Education (CAPE), explored the idea of belonging in STEAM through sound. The club, co-taught by teaching artist Nick Meryhew and Chicago Public Schools teacher Michelle Livas, is an experimental, playful, and exploratory environment in which students actualize their musicality and creative identities.
Students began with a handful of prompts: Where do you belong? Have you ever felt like you don't belong? What does belonging look like and sound like? What is the emotional landscape of belonging (or not)? Students then created writing and musical improvisations in response to these questions, which unfolded into a formal songwriting process.
Once the music was written, students transitioned from the role of musician to the role of audio engineer. The club went to the studio and began to explore the possibilities of recording technology, and the work, science, and techniques of audio engineering.
One goal of this project was to create an artwork that explored the idea of belonging in STEAM. Yet, another crucial goal was to create an experience of belonging in STEAM. The recording studio became a site of belonging, a supportive environment in which students could express their feelings and ideas through creative use of music technology.
Chicago Arts Partnerships in Education engages students, inspires teachers, and demonstrates impact by weaving visual, digital, and performing arts into classrooms across Chicago.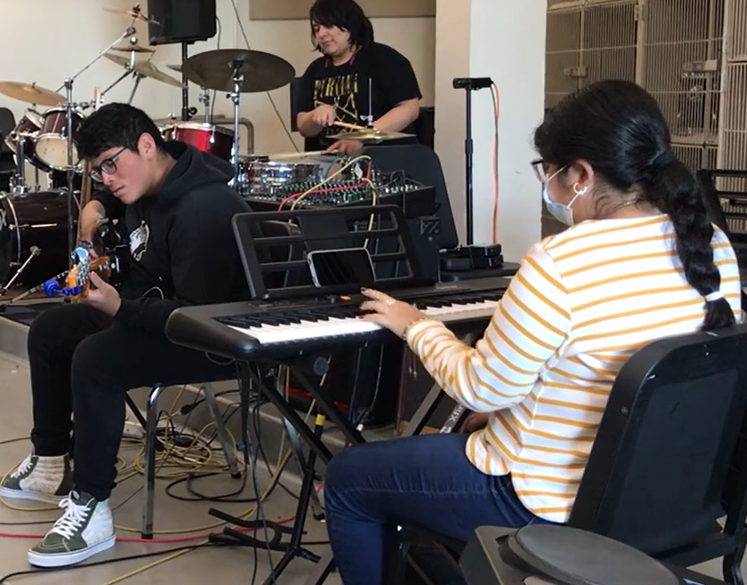 This art reflects the interpretations, beliefs, and opinions of these artists and community and should not be considered representative of the views of unCommission nor 100Kin10.